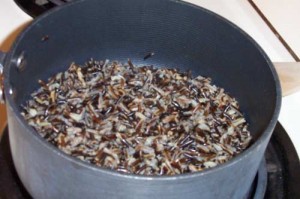 1 package (10 ounces) frozen chopped spinach
3 cups cooked wild rice
1-1/2 cups cooked white rice
1/2 cup toasted slivered almonds
1/4 cup sliced green onions
4 slices soy bacon, crisply cooked and crumbled
Soy Sauce Dressing (below)
Rinse frozen spinach under running cold water to separate; drain thoroughly. Mix spinach and remaining ingredients except dressing. Pour Soy Sauce Dressing (see below) over rice mixture; toss. Cover and refrigerate at least 3 hours.
Soy Sauce Dressing
1/2 cup vegetable oil
2 tablespoons vinegar
2 tablespoons soy sauce
1 teaspoon sugar
1/2 teaspoon salt
1/4 teaspoon pepper
Whisk all ingredients together.
Makes 8 servings (about 3/4 cup each); 265 calories per serving.