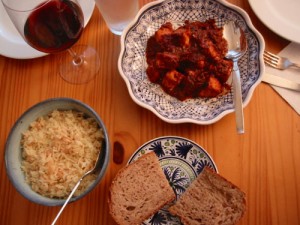 1/3 cup extra virgin olive oil
2 tablespoons finely chopped garlic
35 fresh mint leaves
1 cup dry white wine
A large pinch saffron
1 cup peeled, fresh ripe tomatoes (chopped)
Salt
Chopped fresh chili pepper
2 lbs swordfish steaks
Put the olive oil and garlic in pan and turn on the heat to medium. Cook the garlic. Add the mint, stir quickly and then add white wine and saffron. After alcohol has subsided, add the chopped tomato, salt and chili pepper. Cook about 15 or 20 minutes. Put the fish in the pan, sprinkling it with salt and turning it over a couple of times in the sauce. Transfer the entire contents of the pan to a warm serving platter.