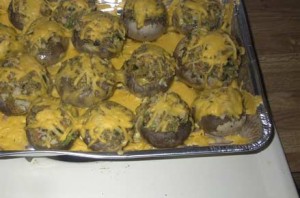 An easy to make definite crowd-pleaser.
24 large fresh mushrooms, 1.5-2 inches in diameter
1/2 cup sliced green onions
1 large garlic clove, minced
1/2 cup margarine or butter
2/3 cup fine dry seasoned bread crumbs
2 cups shredded Colby Jack cheese (divided)
1 cup fresh spinach, chopped
1 cup real canned crab or imitation crab, chopped
Preheat oven to 425 degrees. Wash and drain mushrooms. Remove stems. Reserve caps. Chop enough stems to make 1-1/2 cups. In large non-stick skillet, cook stems, onion, and garlic in margarine or butter until tender. Stir in spinach. Cook until tender. Stir in crab and cook until heated through. Stir in bread crumbs and 1 cup of cheese. Remove from head. Spoon mixture into mushroom caps. Arrange mushrooms in baking dish. Top with remainder of cheese. Bake at 425 degrees for 8-10 minutes or until heated through and cheese melted. Serve immediately.